Australian Roadtrip Scratch Map poster
AUSRTMAP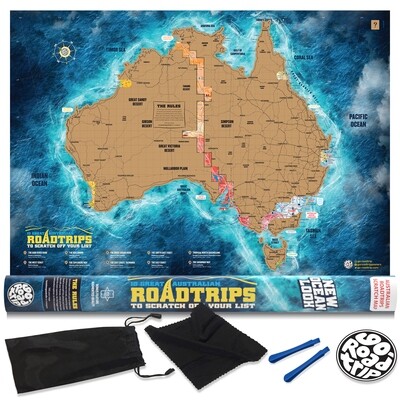 Brand NEW OCEAN design.

What's new?
We've add more roads, more towns, more hidden things, we've added the major railway lines and the big addition is the augmented reality. View the poster with your smart phone to watch it come alive.
A great gift for dad or a great gift for yourself. A fantastic gift for the avid traveller. Designed in Victoria, Australia for Australians and visitors.
We have outlined just 10 of the thousands of road trips you can travel whilst taking a road trip adventure in Australia. Many more roads are found on the map that you can scratch off and make your own visible diary of the best trips you have taken.
Maybe you haven't been on a particular road or trip, but you can plan it using this map by scratching your route and when you return, scratch off all the other places you visited during your journey.
We provide a handy scratch tool. Scratch off the shiny gold foil to reveal our lush, vivid colours underneath, with a different theme for each state or territory.
Includes:
Premium A1 poster (84.1cm wide x 59.4cm tall)
Sturdy hard tube casing
Scratch deluxe device
1 cloth used to clean up after scratching and get your map looking the best it can
Go-Roadtrip Sticker
Frame not included but we found these great options online: KMART , OFFICEWORKS , SPOTLIGHT , BIG W
Brand:Go-Roadtrip
UPC:91952000057
Discount Code?:Check our socials
ADD an A1 New Zealand Scratch Map (20)
ADD an A1 Victorian High Country Scratch Map (20)
Christmas theme (5)
Birthday theme (5)
Plain theme (5)
None (0)